This shop has been compensated by Collective Bias, Inc. and its advertiser. Product was provided by the client for review; however, all opinions are mine alone. #WorldsSmartestToothbrush #PhilipsSonicare #OprahsFavoriteThings #CollectiveBias
Give the perfect gift this holiday season to everyone on your list with this Philips® Sonicare DiamondClean Smart 9300 Rechargeable Toothbrush! Plus, wrap it up all prettily in a DIY Burlap Gift Bag! I can't wait to share the tutorial with you today!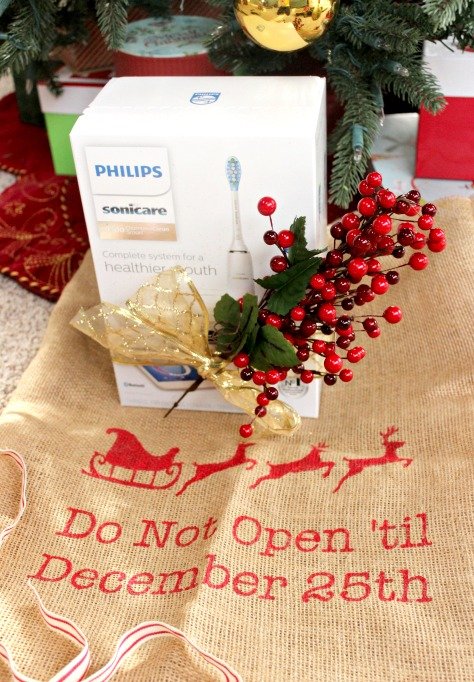 Hover over the photo above to head over to Amazon and shop this item!
I've certainly been making a list and checking it twice, when it comes to figuring out what to give each family member, friend, neighbor, teacher, and loved one for Christmas. Sometimes it's hard to know what that certain picky individual would like. And at times we're baffled at what to get for that person who seems to already have it all. Trust me, I've been there!
So I've taken the guesswork out of gift giving this year for you, because I know what everyone wants! It's a Philips® Sonicare DiamondClean Smart 9300 Rechargeable Toothbrush! It's Philips' best ever toothbrush for complete oral care!
The Sonicare DiamondClean Smart 9500 Rechargeable Toothbrush was named one of Oprah's Favorite things in 2017, and I had the chance to try a DiamondClean Smart for myself.
Everyone's got to brush their teeth, so why not do it the best way possible? I love the feeling of smooth, clean teeth!
Philips Sonicare is the number 1 Dental Professional recommended brand. It allows you to care for your whole mouth, teeth, gums and tongue.
I think it's safe to tell you who I'll be giving this toothbrush to, since she doesn't typically get online.  My mom has always placed an emphasis on her oral health, so I know she will be so excited to receive this! Shhhh….don't tell! 🙂
Only the new DiamondClean Smart has four high-performance brush heads and Smart Sensor technology for personalized feedback and coaching. It gives you superior results and 100% confidence in your oral care – every time.
I bet you can think of a special someone who would be ecstatic to find one of these under the tree! Amazon is my one-stop shop every holiday season. It's so amazing to be able to check items off the gift list without stepping foot outside! Don't you agree?
I'm convinced this toothbrush is the best there is! It automatically adjusts to the optimal mode and intensity level. Plus, the sensors and Sonicare app help you perfect your technique, and get a complete clean. You basically have a personal teeth cleaning coach each time you connect with the app!
This gift would have been complete with just the amazing toothbrush, but I decided to add some bath bombs, lip gloss, nail polish, fuzzy socks, and body scrub for kicks and giggles. My wonderful mom deserves some serious pampering, after all!
And since the receiver may be tempted to take a peek at what's inside, this burlap santa's sleigh gift bag has a friendly reminder to hold off on the big reveal until December 25th. 🙂 I love that the bag is reusable and looks cute under the tree too. The sleigh and reindeer are such a festive touch!
I don't consider myself a seamstress at all, so I'm being completely honest when I say anyone can make this! You basically have to cut two pieces of burlap, finish the edges, then sew a few straight lines to tack it together. I opted to keep the top of the bag unfinished because I liked the look of the rough edges, but you can fold them in and do a hem if you'd like.
Here's a quick photo tutorial:
Start by cutting two pieces of burlap that measure 19″ by 21 1/2″. Finish the edges of each piece with a serger or a zig zag stitch. Since I don't have a serger, I used a zig zag stitch. Next, using a craft cutting machine and adhesive-backed vinyl, cut out a design that will go on the front. My design (text and image together) measured 10″ by 7″. I used the American Typewriter font. Remove the insides of the letters and design, peel back the vinyl, and transfer it to what will be the front piece of your bag. Try to stick it down as well as you can. It won't adhere all the way to the fabric, but you can press each section down flush as you paint inside it.
Using craft paint and a small, firm brush, paint inside the letters and design. You may need to press the vinyl down as you go, so the design will transfer cleanly. Carefully remove the vinyl and allow the paint to dry completely. Place the painted side face down on the other piece of burlap, lining up the edges, and sew around the three sides, using a 1/2″ seam, and leaving the top open. Be sure to use the backstitch at the beginning and end to reinforce them.
I went the extra mile and zig zag stitched around the edges of the three sides again to make sure they were nice and sturdy, but that's optional. At this point, you can fold the top portion and sew around to finish the edges, but I liked the look of the raw edges.
Now turn it right side out, fill it with goodies, tie it with pretty ribbon, and give it to someone special!
I can't wait to see the look on my mom's face when I hand this over! Who will you give the gift of a healthy smile to this holiday season?
I hope you're enjoying this wonderful time of year! Happy gift giving!