Hi everyone! I'm Cate from Chez CateyLou and I am so excited to be helping Christine celebrate her Halloween Extravaganza! Nothing says Halloween to me more than Candy Corn. The second those festive yellow, orange, and white nuggets hit the store shelves, I know that fall and Halloween are just around the corner!
Since candy corn is probably not an appropriate breakfast food, I decided to make some baked donuts that are decorated to look just like candy corn!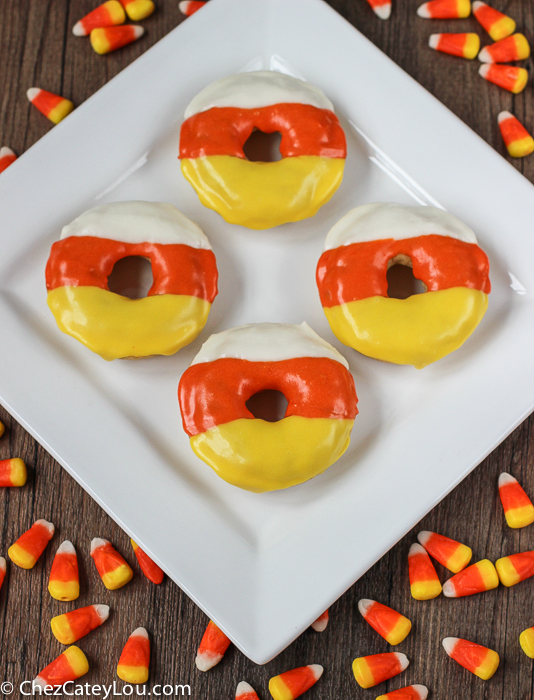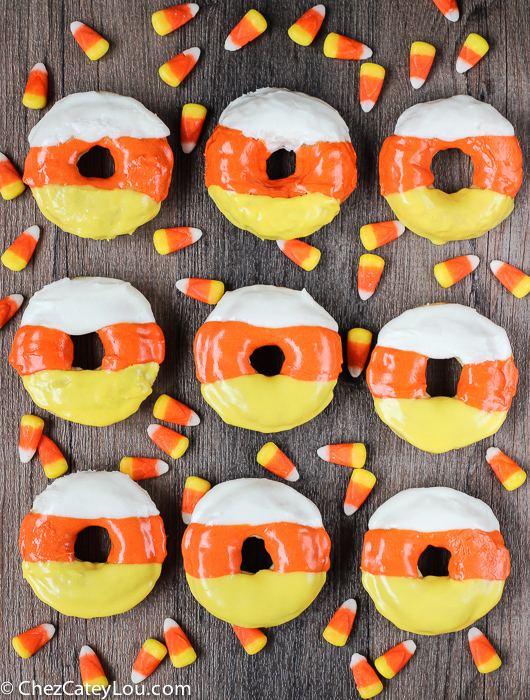 These are the perfect donuts to make for Halloween breakfast. They are so fun and festive, and your kids will have a blast decorating them! But donuts don't have to be only for breakfast – these would be a great addition to any Halloween party spread.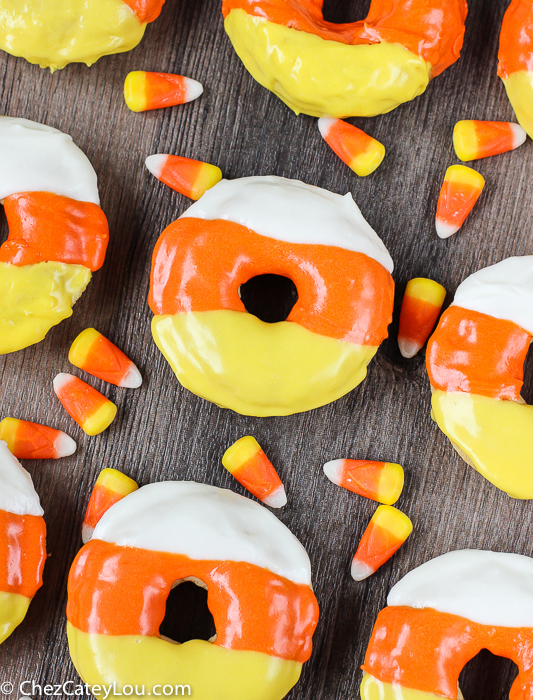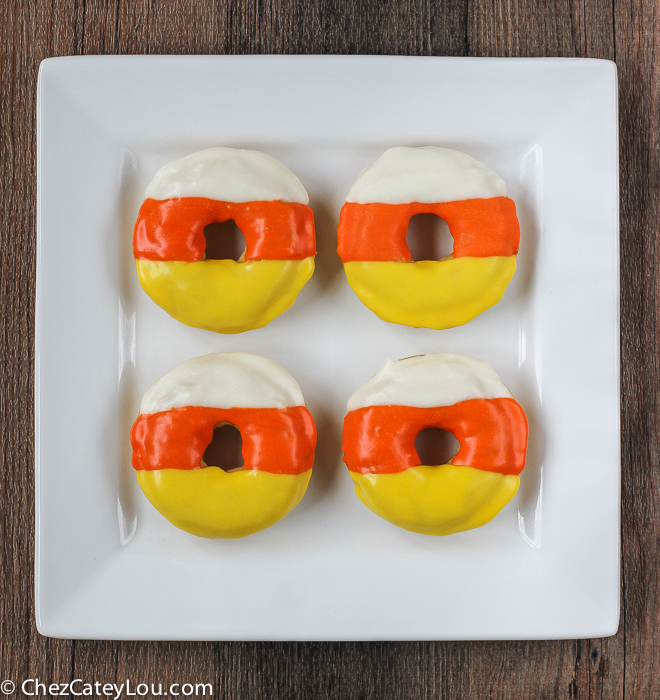 For the Donuts
1 cup flour
3/4 teaspoon baking powder
1/4 teaspoon baking soda
1/4 teaspoon salt
dash nutmeg
2 tablespoons vegetable oil
1/4 cup sugar
1 egg
1/4 cup milk
1/4 cup yogurt
1 teaspoon vanilla
!For the Glaze
1 1/2 cups powdered sugar
2 tablespoons butter, melted
2 tablespoons light corn syrup
2-3 tablespoons heavy cream
dash salt
orange food coloring
yellow food coloring
For the Donuts
Preheat oven to 325 degreesF.  Grease two 6-cavity donut pans with nonstick cooking spray.
In a small bowl, whisk together the flour, baking powder, baking soda, salt, and nutmeg.
In a medium bowl, whisk together the oil, sugar, egg, milk, yogurt, and vanilla until very well combined.
Add the dry ingredients to the wet ingredients and mix until just combined.
Spoon the batter into the donut cavities, filling each one just over half full (this makes about 10 donuts).  Bake the donuts for 8 – 10 minutes.  Allow them to cool in the pan for a minute, then turn out onto a wire rack to cool completely.
Whisk together powdered sugar, butter, cream, salt and 1 T heavy cream. Keep adding heavy cream until desired consistency is reached.  Divide the glaze into three bowls.  Keep one white, color one orange, and color one yellow.
Once the donuts are cooled, spread the icing on the donuts in three stripes – white on the top, orange in the middle, and yellow on the bottom.  Allow the glaze to set, then serve.


Follow Chez CateyLou around the internet!
If you are looking for ideas to use up that leftover Halloween candy, try some of these!
Salted Caramel Stuffed Chocolate Cookies
– made with Rolos