**This is a Sponsored post written by me on behalf of
Jel Sert
for
SocialSpark
. All opinions are 100% mine.Growing up, my siblings and I always couldn't wait until school let out for the summer.  Our "lazy" days consisted of early-morning weeding in the garden, followed by household chores, and then our favorite part-lots of play.  We lived in a small town on a farm with a few acres of land and enjoyed many of life's simple pleasures.  We made huts in the weeds between our fruit trees, created our own bike trails around the empty lot next to our house, engaged in foot races, ran through sprinklers, and did cartwheels on our plush front lawn.
We literally played outside all day.  There was a "Big Pit", as we called it, a few blocks up from our house.  It was, as its name states, a huge empty pit where houses hadn't yet been built.  We'd race down the hills there at top speed on our bikes and explore the surrounding uninhabited areas which led us up the nearby mountain.  Sometimes, we'd ride home, ask my mom for fifty cents, then ride together to the candystore downtown where we'd fill our brown paper sacks with penny candies.  Do you remember those?
It's a wonder my mom didn't worry about us in all of our adventures, but as long as we checked in with her first, we were pretty much golden to go wherever we wanted, which wasn't too far in our small town.   🙂 The only time I remember going inside was when we wanted lunch or when we overheated and needed to cool off for a few minutes.  We'd grab a quick drink, an ice pop or two, then run back outside to climb a tree, play tag, or hide-and-seek.  Ahhhh…..those were the days.
I wish I could recreate the summers that I had growing up with my own kids, but circumstances are very different in the world now.  They still enjoy a good flavored ice pop on an almost daily basis, though, and so do I.  My daughter always requests Tropical Punch because they're girly and pink.  🙂
At only $ .10 cents a pop, 20 calories per serving, Fla-Vor-Ice is a perfect summertime cool-off snack.  They're made with 100% juice, contain no allergens, and are fat free (my favorite part).  So I don't have to feel guilty if I eat 3 or 4 of them in a day.  🙂  They come in tons of fun flavors and sizes and are so refreshing.
Want to win a year's supply of Fla-Vor-Ice pops or a $50 Visa gift card?  Well you're in luck, because Fla-Vor-Ice is hosting a Summer Flashback Giveaway now through August 20th where you can!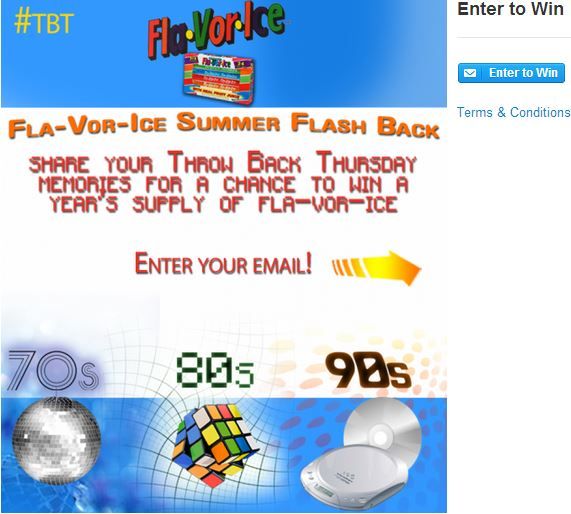 Fla-Vor-Ice Flashback Giveaway
It's unbelievably easy to enter.  Here's how:
Visit the Fla-Vor-Ice Facebook page.
"Like" Fla-Vor-Ice.  Then click on the "Sweepstakes" tab.  Follow the prompts to fill out the brief information.  It's as simple as that!
You can also follow them on Twitter @FlaVorIce_Pops.
I hope you're having a wonderful summer and keeping cool!  We're doing our best to not melt here.  🙂