This is a Sponsored post written by me on behalf of
PeiWei
. All opinions are 100% mine.
It's no secret that I love spice.  Spice to me equals flavor.  As such, our meals are never bland around here. Quite the contrary.  My husband and I heavily use hot sauces and seasonings in our cooking.  Even my daily toasted deli meat lunch sandwich is doused in Sriracha before it hits my palate.   A world without "Rooster Sauce" as we call it, would be nothing short of torturous. 🙂
Our taste buds have adjusted so much to the stuff, that we are seeminly unphased by it now.  My young brothers-in-law paid us a visit for the long weekend not long ago and on the menu one of the evenings was my husband's family-famous stir-fry.  He made two versions of it…the so-called "mild" choice and a "spicy" option.  Wanting to prove their manliness, our guests piled their bowls high with the notorious "hot" rice and veggie concoction.  You knew that was coming, right?
Needless to say, after bite one, they downed a half gallon of milk each and then shamefully admitted that they'd settle for a generous helping of "mild".  Meanwhile, my husband and I were wondering what all the fuss was about while contentedly munching our Sriracha-and-chipotle-pepper-laden portions.  🙂  Actually, we laughed 'til our bellies hurt and won't ever let them forget the experience.
So when I heard that Pei Wei was offering a new fall menu item that involves our favorite Sriracha sauce, my attention was fully captured.
Feast your eyes on the amazing Sriracha Pineapple Pork Lettuce Wraps.  Such a genius ingredient combo.  I'm taking mental note for the next time my homemade lettuce wraps make an appearance at our table.  Pineapple…why didn't I think of that?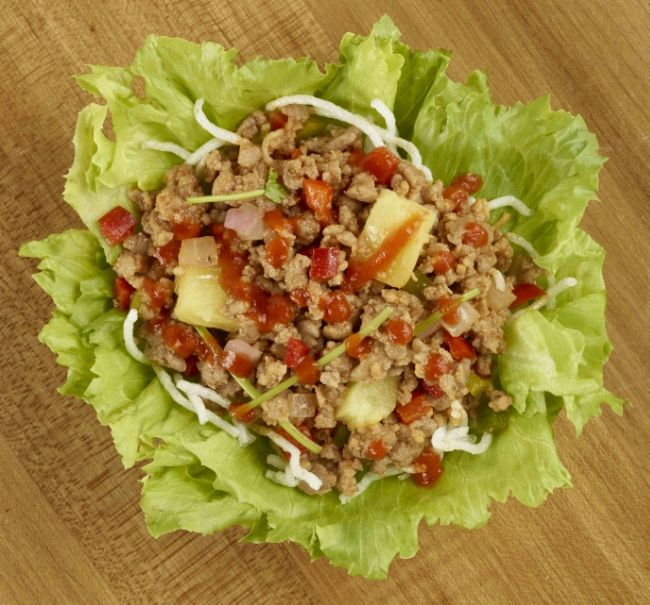 The best part about this?  Well it's a toss-up between the delicious wok-seared pork, red onion, pineapple and red/green pepper components (not to mention the drizzling of of Pei Wei's own Sriracha sauce) and the fact that I can grab it as a convenient to-go, light lunch or sit down at the casual Asian Diner and enjoy it as a delicious dinner.  Pair it with a side of Thai Wanton soup, a Vegetable Spring roll, or edamame (my favorite), and the taste buds are sure to shout for joy.
If Sriracha isn't your cup-of-tea, not to worry!  Pei Wei has a full menu of other tasty options-packed with 35 fresh, high-quality ingredients that are hand-cut just for you.  Each dish is freshly-prepared or wok'd to order and customizable to your liking.  Pei Wei also offers a variety of gluten-free and vegetarian options!
Explore the full Pei Wei Asian Diner menu 
Drop in soon to try the new Sriracha Pineapple Pork Lettuce Wraps or one of Pei Wei's other delicious dishes!
What part about the Sriracha Pineapple Pork Lettuce Wraps excites you the most?
Be sure to Like Pei Wei on Facebook, Follow Pei Wei on Twitter, and Follow Pei Wei on Pinterest to keep up with the newest tasty offerings there!