This shop has been compensated by Collective Bias, Inc. and its advertiser. All opinions are mine alone. #GoldfishLunchSmiles #CollectiveBias
Stay on top of the lunch game when the kids start back to school with this Printable Lunch Box Planner! This makes it SO easy to keep track of what's going into those boxes and on which day! Walmart makes it so affordable to stock up on lunch items (including fresh produce) and all the required school supplies too!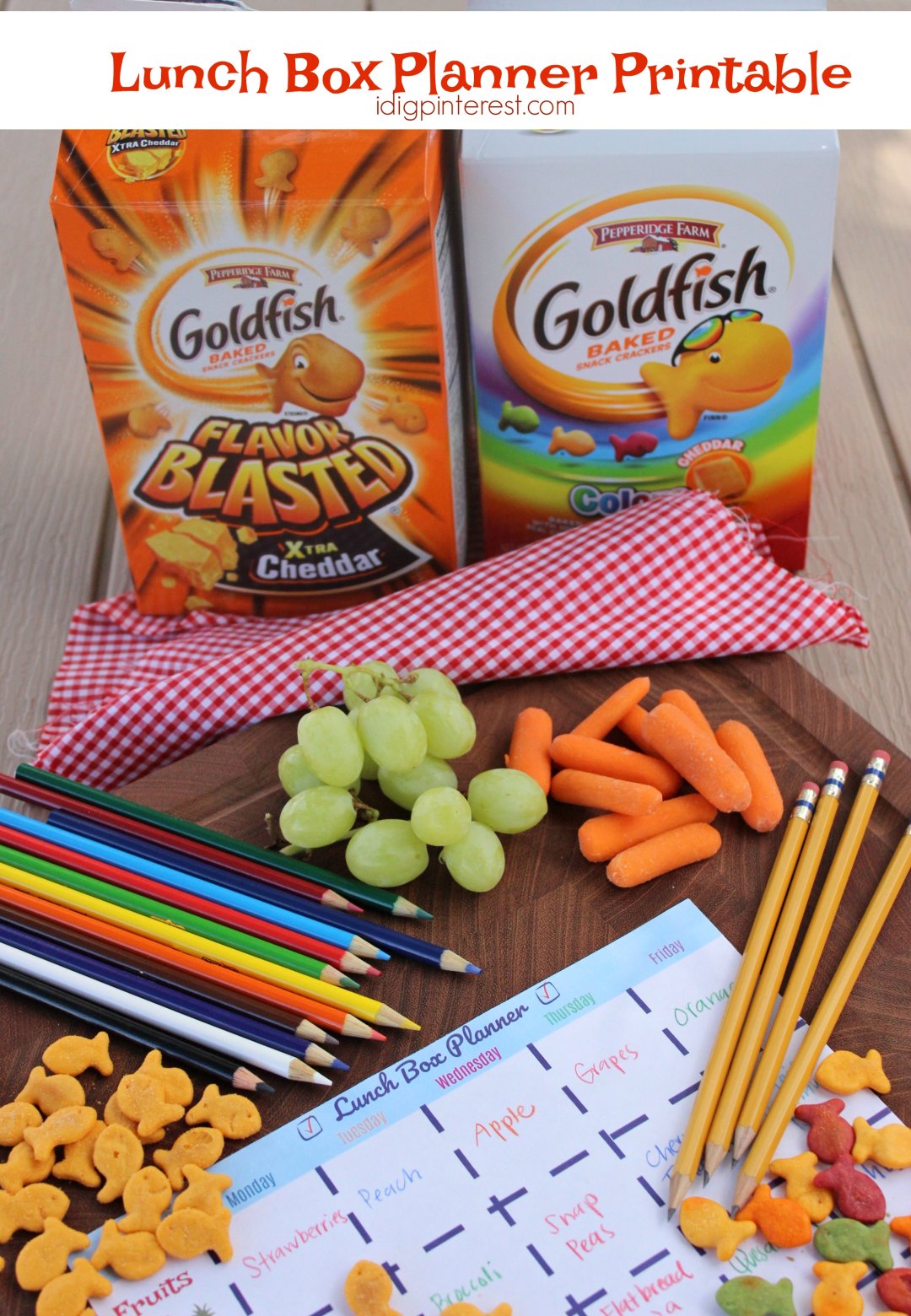 Hover over the photo above to visit Walmart.com and purchase Goldfish® 30 oz. Cartons for your family!  To purchase the produce featured in the image above, find a Walmart near you!
One of my favorite things about the beginning of a new school year is all the pretty supplies that hit the aisles. The freshly-sharpened pencils, neatly-lined notepaper, and big pink erasers make me giddy! Goldfish® crackers are also a big part of a new school year around our house. We love them for snacks and in lunches!
It seems like the kids just got out of school for the summer and now they are getting ready to head back again! Time really flies!
With three kiddos starting school this time around, I'm determined to be organized with the lunch situation.
I've decided that I'm going to ask the kids to start helping to prepare their lunches the evening before. I'm pretty sure it's going to help make our mornings run so much smoother!
Last year, we got into a "lunch rut" where the kids were requesting the same items every day in their lunch. What happened was they got tired of the "same old things" and ended up emptying most of it in the trash (I found out through some sneaky mommy sleuthing).
So, in my determination to not let that happen again, I came up with this planner sheet that makes it so simple to "lay out" the week's lunch box meals all in one place, ensuring they are balanced, varied, and sufficient to fill those kids' tummies! It also makes it so much easier to write up the grocery list! It's a win on all counts! I love simple systems like this that help keep me organized and on track!
And my kids love opening their boxes to see something exciting to enjoy each day! It doesn't matter how simple or basic the contents, it really makes them smile, especially when Goldfish® crackers are involved.
My kids go wild for Goldfish® crackers! Which is exactly why we always buy them in bulk with the big boxes!
Get more back to school inspiration with Goldfish® crackers here.
Goldfish® crackers a happy constant in our life, especially during the first of the school year when the kids are getting used to a new routine, new teacher and new friends.
Goldfish® Bulk Cartons (30 oz.) are easy to find on the cracker aisle at Walmart. And, they're on rollback right now for just $5.98! Woot! Now is a great time to stock up!
I make frequent trips to Walmart, especially after school starts, because I love to include fresh produce in my kids' lunches. Plus, the teachers run out of supplies in the classroom and make requests for replenishments on a regular basis.
But, I'm not complaining, because I'll take any excuse I can get to shop for colorful, fun school supplies! I seriously have to talk myself out of getting one of everything! 🙂
I used some fresh, sharp pencils to complete the categories for our first week's Lunch Box Planner. I'm making preparations now, because school will be starting before you know it!
I hope this planner sheet helps you in the coming school year!
When do your kids head back? What are their must-have lunch box items?