This post brought to you by
P.F. Changs
. All opinions are 100% mine.
It's no secret that I'm a total sucker for sweets.  Especially around the holidays, the festive desserts call my name.  It's a wonderful time to indulge, too, as the New Year's resolutions won't start for a few more weeks.  :)Assorted chocolates, soft fudge, peanut butter buckeys, frosted candy-infused cookies, fudgy brownies…these confections are my downfall this time of year.  But who can resist a plate-ful of goodies made lovingly by a thoughtful neighbor?  Not I.   In fact, one of the reasons Christmas is my favorite holiday is the fantastic food that manifests itself during celebratory parties and gatherings in honor of the day.
I love this festive time of the year, not only for the yummies that tempt me, but also for the excuse to draw closer to those around me through giving and serving.  If you're like me, though, it's easy to feel overwhelmed with so many wonderful activities and "to-do's" pulling for our time.  To save on stress, my family ends up eating out a lot more often during the month of December.
I love making meals for my family at home, but occasionally when we're already out-and-about, it's so much more convenient to just eat somewhere in between activities.  One of my family's favorite places is P.F. Chang's.  It's an Asian/American sit-down restaurant that offers a delicious array of handcrafted dishes and desserts. We love it for its delicious food but we also appreciate its family-friendly atmosphere.  When we can't find a sitter, we don't feel bad bringing our kiddos.  They're usually very well-behaved at restaurants.  They sit and color while we order our favorite Chang's menu items, including Lettuce Wraps, Mongolian Beef, and our most beloved dish…Shrimp with Candied Walnuts.
No matter how full we are after appetizers and the main course, we still never make it out the door without ordering something sweet.  P.F. Chang's has some of the most fantastic dessert offerings.  We always look forward to the Great Wall of Chocolate. But they've added some holiday desserts that are screaming my name!
Doesn't this Chocolate Raspberry Wonton look incredible?!?  Chocolate and raspberries are an absolutely magical combo in my book. A creamy chocolate-raspberry filling tucked inside a handmade, crispy wonton, drizzled with chocolate and raspberry sauce and dusted with powdered sugar. It doesn't get much better than that!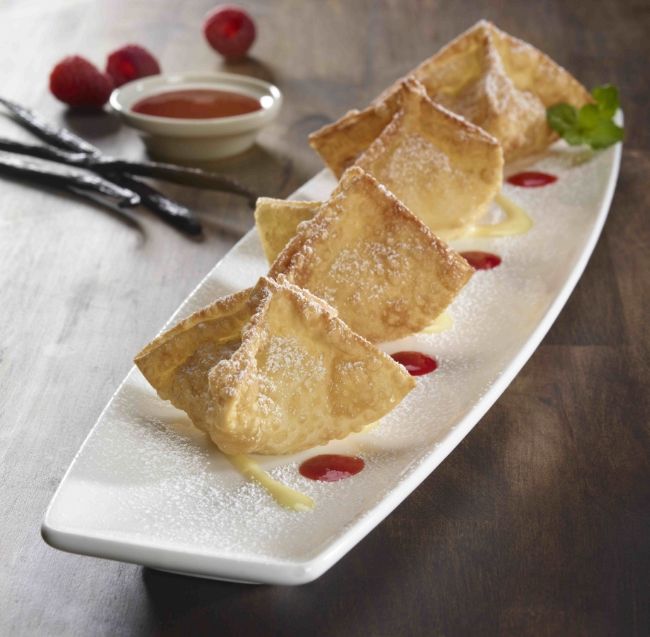 Or how about some Sweet Vanilla Cheese Wontons?  A delicious vanilla cream cheese dollop wrapped in a crispy wonton and topped with vanilla and raspberry sauces.  Be still my heart!
I can't wait to pay P.F. Chang's another visit to try these incredible-looking confections!  It's a wonderfully delicious time of year!
If you've had a hectic day with all your holiday preparations, put the dishes to rest in the kitchen and let P.F. Chang's make dinner for you!
Which new dessert are you most excited to try?
Be sure to Follow @pfchangs and Follow P.F. Chang's on Pinterest too, in order to keep apprised on their newest delectable menu offerings.