This shop has been compensated by Collective Bias, Inc. and its advertiser. All opinions are mine alone. #GiveColorfully #CollectiveBias
Give a colorful gift this holiday season that also encourages creativity with these Sharpie and Prismacolor gift packs! A hand lettered "My Little Book of Happy Things" Journal completes it!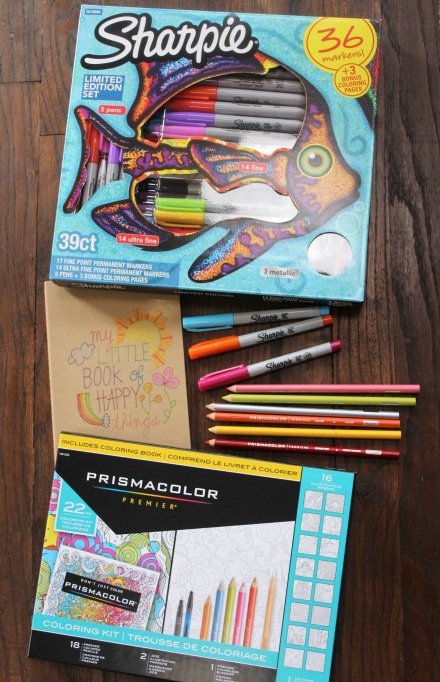 Hover over the photo above, then click to shop these items!
Do you know someone who enjoys doodling, stenciling, and drawing? These Sharpie and Prismacolor gift packs are the perfect holiday gift for the art lover in your life, no matter how old or young they may be!
One of my focuses for the new year is going to be on record keeping. Since my high school days, I haven't been good about writing in a journal. I want to remember the wonderful moments and experiences that happen in daily life, especially while my kids are young. This time I'm determined to stick with it!
So I bought some blank journals and prettied them up. I'll keep one for myself, which hopefully I'll put to good use, writing about gratitude, goodness and moments that make me smile. The other I'm going to gift to a friend, along with some Sharpie and Prismacolor gift packs!
We love to doodle at our house. So I try to have lots of colored pencils and markers at-the-ready to encourage everyone to let their artistic sides shine. If I'm ever wondering where my kids are, more often than not, they're sitting around the kitchen table, working on a colorful masterpiece on paper. It brings me so much joy to see them busy being creative!
Sharpie and Prismacolor make art projects so much fun!
From 12/3 to 12/23, you can save $10 with low price of $19.99 with this offer. So great, right?!
Look for them at Target on the aisle end caps near the office supply section!
Christmas is fast-approaching! This month always seems to fly by! If you're still stumped about what to get that special someone on your list, these art kits are a great last-minute option that are sure to be enjoyed! I can't think of a single person who wouldn't love to see these under the tree! I included the hand lettered journal for a nice personal touch and tied it up with some baker's twine and jute, then inserted a berry stem to finish it.
Each gift set comes filled with tons of colors! This means endless creative options! Doodling just got a lot more exciting! I have a feeling this journal is going to be a place where bright and happy collide!
There are plenty of sad, discouraging, and frustrating things that occur in life, but I want this to be a space for all things happy in both words and drawings! That way, when I'm in need of an emotional boost, I can browse the pages and be lifted! I'm hoping to do the same for a friend with this gift!
Here's a quick how-to on decorating the journal cover:
On a blank journal cover, first lightly pencil in the design and text. I added flowers, a rainbow, a sun and clouds for illustrations. Trace over the pencil markings with Sharpie markers. Fill in the blank areas inside the pictures with Prismacolor colored pencils. That's it! So easy!
The fine-tipped Sharpie markers are perfect for writing in the journal too!
I can't wait to give the gift of journaling to a very special person in my life!
What would you create with this colorful gift? Who will you give them to? I'd love to hear!